Description
Yamaha PSR-E273 Portable Keyboard
The Yamaha PSR-E273 is a 61-key, entry-level Portable Keyboard featuring a wide variety of sounds and functions, making it an ideal first keyboard for aspiring musicians who are just starting out & don't require touch response.
Quiz Mode
Smart Chord
401 high-quality Voices, 143 auto accompaniment Styles
112 Songs, easy Song Book (available via web download)
Lesson function
Recording function
AUX IN jack for connecting an external audio source
Master EQ / Ultra Wide Stereo
Duo Mode
Compact and portable design
Battery operation (AAx6)
A comprehensive library of 401 quality voices, including pianos, guitars, drums and orchestral instruments
The PSR-E273 features quality sounds from Yamaha, so you can enjoy 401 stunning Voices including guitar, bass, strings, sax, trumpet, drums and percussion, as well as piano, organ, and other classic keyboard instruments.
---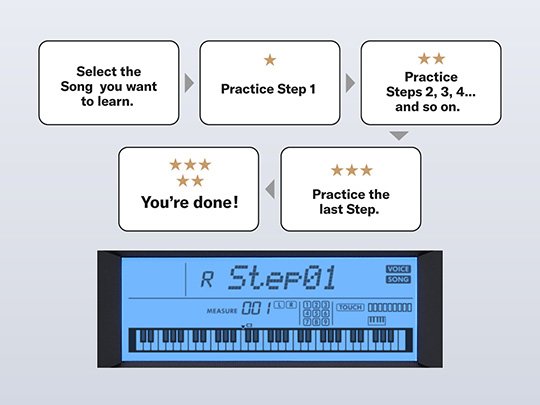 Yamaha's 'Keys to Success' Lesson Function helps beginners learn to play songs
"Keys to Success" is based on teaching techniques shared with Yamaha over many years. You can select just the key phrases of the Song—the ones you like most or need to work on—and practice them one by one. This lesson is ideal for beginning players.
Each Song consists of several steps. Each time you play all the way through the current step, your performance will be evaluated.
---
Quiz Mode
The PSR-E273 lets you have fun playing and helps to develop your ear musical ear by playing along with the "guess the note" quiz.
---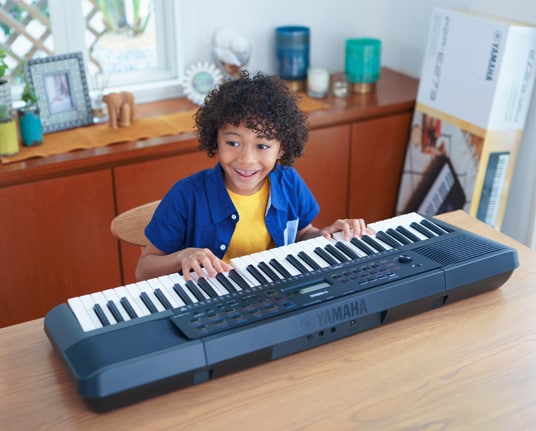 When playing is fun, you want to keep practicing. The more you practice, the more you improve, so the more you want to play.
As much an educational learning tool as it is a musical instrument, the PSR-E273 combines Yamaha quality Voices and Styles with sophisticated practical learning functions that inspire beginner players to realize their potential and develop enthusiasm for learning and playing music. The various fun and educational features of the PSR-E273 ensure speedy progress, making the whole learning experience—even practicing—so much fun your children will never tire of playing, even on their own. It just makes sense.
---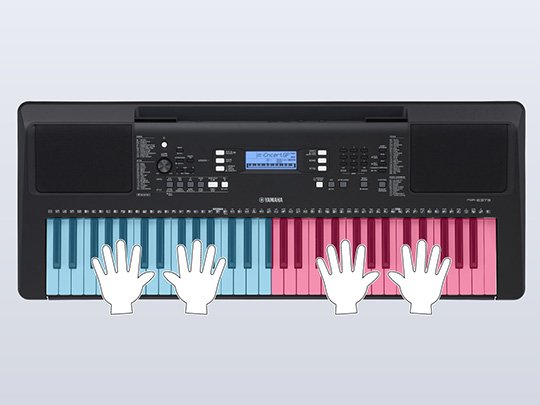 Play with a partner
When the Duo mode is activated, two different players can play the instrument simultaneously, with the same sound, over the same octave range—one person on the left and the other on the right. This is useful for learning applications for example, in which a teacher plays a model performance and a student practices while sitting next to the teacher.
---
Use the "Style" function for real-time backing tracks.
Just play chords with the left hand and the auto-accompaniment feature will play Styles (rhythm + bass + chord) that match.