Description
Yamaha PSR-E373 Portable Keyboard
Versatile functions and an expressive touch-sensitive keyboard action make the Yamaha PSR-E373 keyboard the go-to instrument for beginning players.
622 high quality Voices with improved sampling
Touch-sensitive keyboard with 48-note polyphony
Brand new DSP effects and 11 Super Articulation Lite Voices
205 auto accompaniment Styles
26 Harmony types
150 Arpeggio types
"Keys to Success" with other lesson functions
Duo mode
Easy Song Book available for download
USB TO HOST allowing two-way MIDI and digital audio transfer
Melody Suppressor for both analog and digital audio input
Touch-sensitive keyboard for superb dynamic range, just like a piano
Play keys firmly to increase the volume of the sound, or softly to decrease it; the PSR-E373 will faithfully reflect every nuance of your playing.
---
A comprehensive library of 622 high quality voices, including pianos, guitars, drums and orchestral instruments
The PSR-E373 features the latest tone generator LSI from Yamaha, delivering the finest sound quality ever offered in an instrument of this type. Enjoy 622 stunning Voices including guitar, bass, strings, sax, trumpet, drums and percussion, as well as piano, organ, and other classic keyboard instruments, which together comprise a comprehensive library of musical sounds. You can even layer two different Voices across the entire keyboard as a "Dual Voice" to enrich your performances still more!
---
Yamaha's 'Keys to Success' Lesson Function helps beginners learn to play songs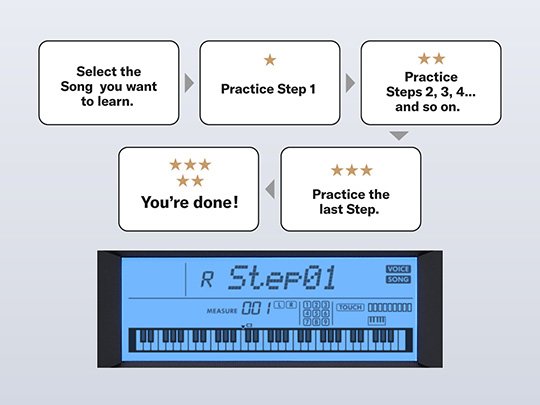 "Keys to Success" is based on teaching techniques shared with Yamaha over many years. You can select just the key phrases of the Song—the ones you like most or need to work on—and practice them one by one. This lesson is ideal for beginning players.
Each Song consists of several steps. Each time you play all the way through the current step, your performance will be evaluated.
---
Connect to a Smart Device and expand your keyboard with software and apps
Digitally enhance the way you practice, record and perform music! Connect a smart device to the PSR-E373 to take advantage of a range of fun functions such as the "Rec'n'Share" app, which allows you to record audio and video along with songs from your music library and then share your performances with the world.
---
Connect your music player, turn the melody down with Melody Suppressor, and jam along with the music!
Connect your audio player to the PSR-E373 to enjoy music through the instrument speakers and play along with the music. To add to the enjoyment, the "Melody Suppressor" function lowers the volume of the melody, allowing you to play the melody line of your favourite songs together with the music.
---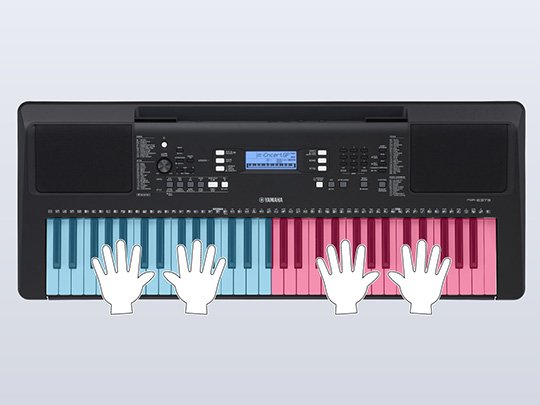 When the Duo mode is activated, two different players can play the instrument simultaneously, with the same sound, over the same octave range—one person on the left and the other on the right. This is useful for learning applications for example, in which a teacher plays a model performance and a student practices while sitting next to the teacher.
---
150 different arpeggio types provide remarkable expressive power
Play back arpeggios (broken chords) automatically simply by playing the appropriate notes on the keyboard! For example, you could play the notes of a triad—the root, third, and fifth—and the arpeggio function will automatically create a variety of interesting phrases. This feature can be used creatively in music production as well as performance.
---
Use the "Style" function for real-time backing tracks.
The PSR-E373 features an auto accompaniment function that automatically plays appropriate backing (rhythm + bass + chord accompaniment), which you can control simply by playing root notes or chords with your left hand.