Description
Yamaha EZ-300 Portable Keyboard with Key Lighting
EZ-300 is a 61-key, touch-sensitive keyboard—specially equipped with lighting keys, and designed as an entry Portable Keyboard model for the first-time players. Stylish and comprehensive, it allows you to practice, play and perform with a variety of lesson functions and authentic instrument sounds.
Convenient Light Guide function shows you which notes to play with lighting keys
A total of 202 built-in demo Songs, including popular and famous songs, as well as pieces for study
Authentic and natural instrument Voices—622 in total—including actual samples of a grand piano
Variety of useful functions, including 205 dynamic auto accompaniment Styles that power your performance
Song expansion feature that lets you play and practice your favorites
Elegant silver-white finish that enhances any interior
Lighting keys – makes playing fun from the very first time!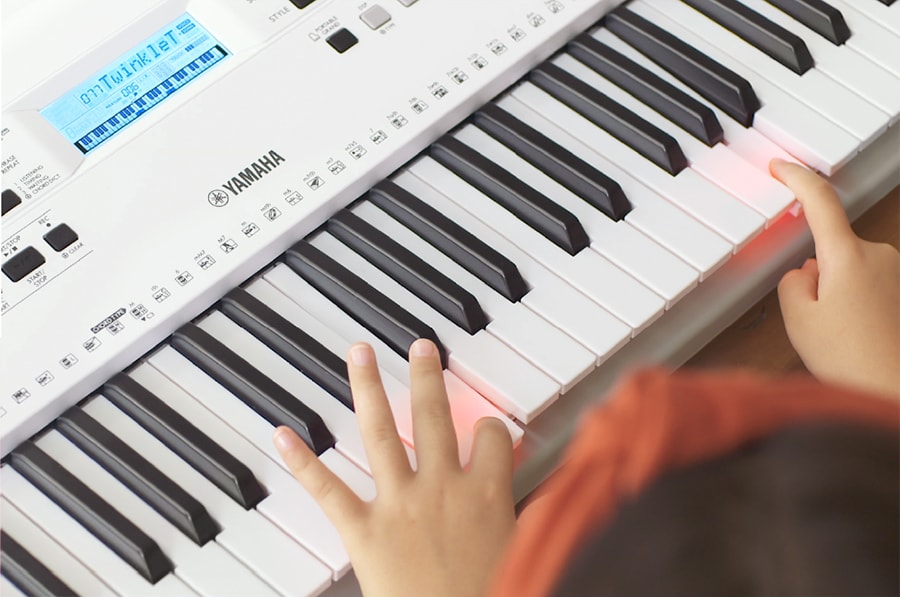 Just play the lighted keys and get beautiful music—naturally and effortlessly. It's easy to get hooked and have fun practicing and playing. And if you want to improve more, practice at your own pace with the three Lesson functions. Work on the right and left-hand parts separately, and even break the song up into separate sections for repeated practice. The lighting keys guide you throughout, helping you enjoy playing—even if you can't read music.
Lighting Keyboard (Light Guide function)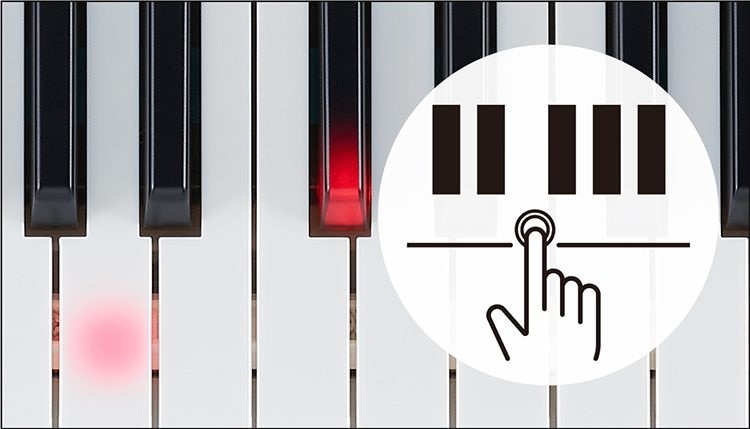 With the Lesson features, the keys light to show you which notes you should play, making it exceptionally easy to play songs, even if you don't know how to read music.
Three Lesson types
Listening: The song by listening to it initially by ear. When Light Guide is on, you can see which notes are playing by watching the lighting keys which sound as they light.
Timing: Here, the keys light to show you which keys to press and when to do it. If your timing is right, the correct sound will sound no matter which key you play, letting you simply concentrate on the timing and enjoy the performance.
Waiting: The song pauses and waits to play until you press the lit keys correctly. Playback tempo also changes automatically according to the pace of your performance, so you can concentrate on playing the correct keys at your own pace.
---
Play the songs you love.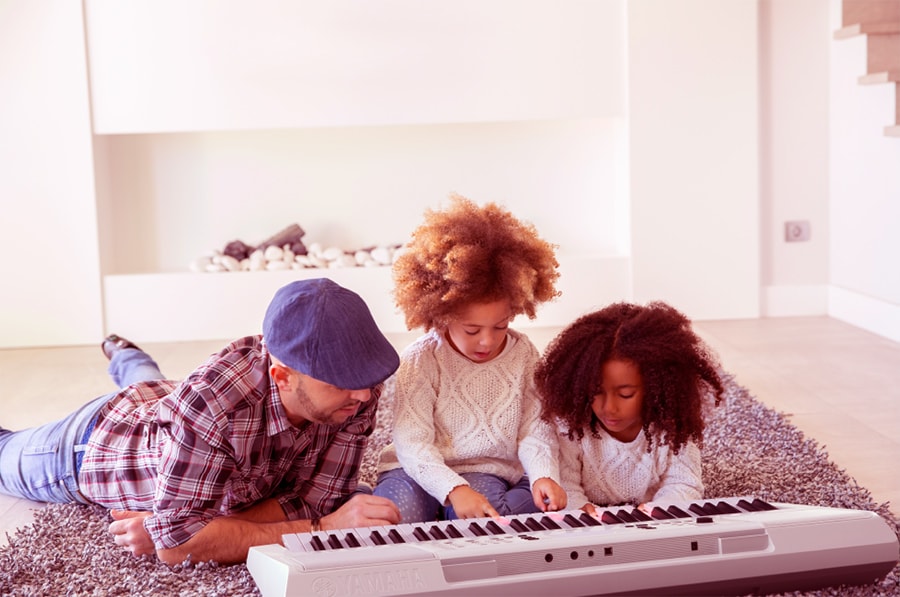 The EZ-300 includes 202 built-in Songs that the whole family will enjoy. With popular hits and famous songs that you've heard and want to play on the piano—from pop song, children's songs, classics, and more. You can have fun playing along with the song or simply listen to it playing automatically. Moreover, you can use the EZ-300 with your computer to add even more of your favorites.
Pop Songs Include: Happy, It's My Life, Viva La Vida, Bad Romance, Shape of You, Duele El Corazon, Titanium, Perfect, Treasure and Something Just Like This.
Various Songs Include: Frère Jacques, Old MacDonald Had a Farm, Aloha Oe, Santa Lucia, Brahms' Lullaby, Menuett BWV Anh.114, Prelude op.28-15 "Raindrop", Für Elise, Twinkle Twinkle Little Star and Turkish March …and many more.
202 built-in Songs, including 10 pop songs, plus add-on song capability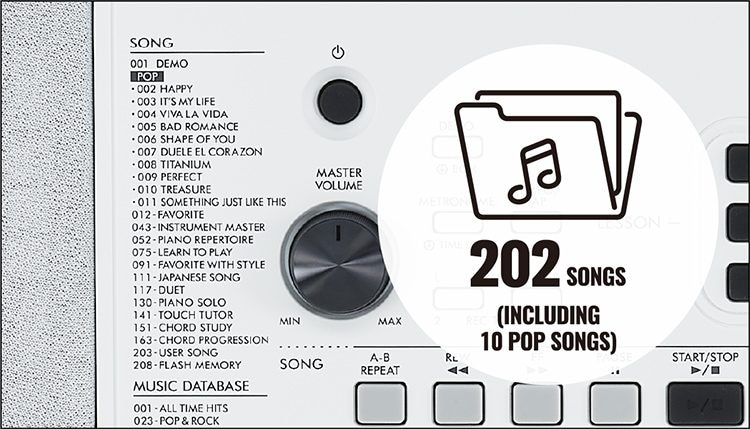 The EZ-300 features a total of 202 Songs, within 9 different categories: Pop*, Favorite, Instrument Master, Piano Repertoire, Learn to Play, Favorite with Style, Japanese Song, Duet, and Piano Solo. In addition, the EZ-300 also features instruction categories, including Touch Tutor which lets you refine your playing strength; Chord Study which lets you learn individual chords; and Chord Progression which lets you learn different chord progressions. You can also use your computer to transfer MIDI songs you have and play along with them using the Lesson and Guide Light features.
---
Touch-sensitive keyboard for superb dynamic range, just like a piano
Play keys firmly to increase the volume of the sound, or softly to decrease it; the EZ-300 will faithfully reflect every nuance of your playing.
---
A comprehensive library of 622 high quality voices, including pianos, guitars, drums and orchestral instruments
The EZ-300 features the latest tone generator LSI from Yamaha, delivering the finest sound quality ever offered in an instrument of this type. Enjoy 622 stunning Voices including guitar, bass, strings, sax, trumpet, drums and percussion, as well as piano, organ, and other classic keyboard instruments, which together comprise a comprehensive library of musical sounds. You can even layer two different Voices across the entire keyboard as a "Dual Voice" to enrich your performances still more!
---
Yamaha's 'Keys to Success' Lesson Function helps beginners learn to play songs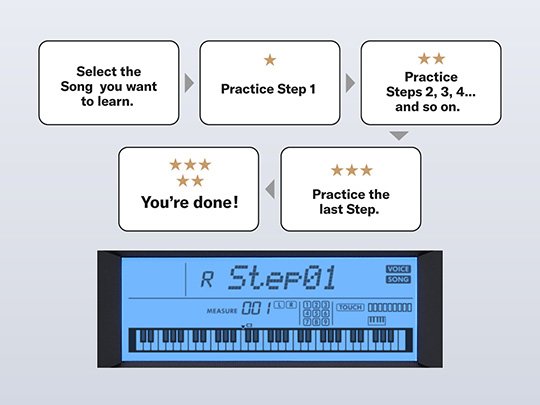 "Keys to Success" is based on teaching techniques shared with Yamaha over many years. You can select just the key phrases of the Song—the ones you like most or need to work on—and practice them one by one. This lesson is ideal for beginning players.
Each Song consists of several steps. Each time you play all the way through the current step, your performance will be evaluated.
---
Connect to a Smart Device and expand your keyboard with software and apps
Digitally enhance the way you practice, record and perform music! Connect a smart device to the EZ-300 to take advantage of a range of fun functions such as the "Rec'n'Share" app, which allows you to record audio and video along with songs from your music library and then share your performances with the world.
---
Connect your music player, turn the melody down with Melody Suppressor, and jam along with the music!
Connect your audio player to the EZ-300 to enjoy music through the keyboard's speakers and play along with the music. To add to the enjoyment, the "Melody Suppressor" function lowers the volume of the melody, allowing you to play the melody line of your favourite songs together with the music.
---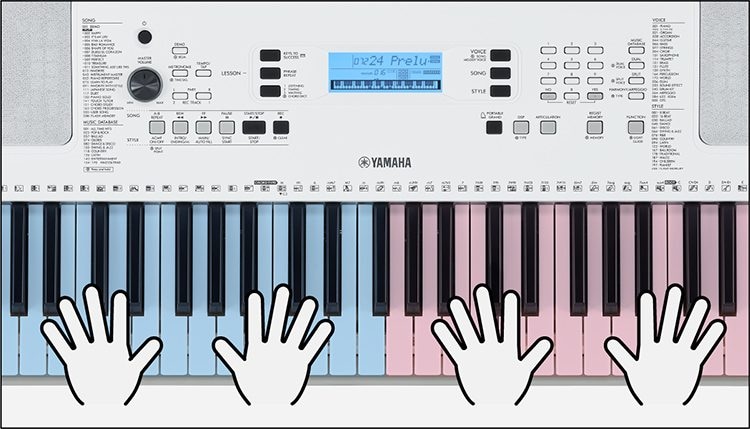 When the Duo mode is activated, two different players can play the instrument simultaneously, with the same sound, over the same octave range—one person on the left and the other on the right. This is useful for learning applications for example, in which a teacher plays a model performance and a student practices while sitting next to the teacher.
---
150 different arpeggio types provide remarkable expressive power
Play back arpeggios (broken chords) automatically simply by playing the appropriate notes on the keyboard! For example, you could play the notes of a triad—the root, third, and fifth—and the arpeggio function will automatically create a variety of interesting phrases. This feature can be used creatively in music production as well as performance.
---
Use the "Style" function for real-time backing tracks.
The EZ-300 features an auto accompaniment function that automatically plays appropriate backing (rhythm + bass + chord accompaniment), which you can control simply by playing root notes or chords with your left hand.