Description
Yamaha YDP-S34 Slimline Digital Piano
---
Music that easily fits into your life
Life can be busy, but we all need to take time to do the things that we love. Bringing the enjoyment of playing music into your life should be simple. With the Arius YDP-S34 digital piano, you can count on a high-quality instrument that doubles as a stylish piece of furniture. It simply "fits" into your space.
---
An authentic, expressive piano experience.
The YDP-S34 is equipped with the powerful tone of Yamaha's acclaimed CFX concert grand piano. With the key-off samples feature, this piano reproduces the slight change in sound at the instant you remove your fingers from the keys. What's more, different key-off sounds are produced for staccato and legato playing.
---
Designed for an authentic acoustic piano experience
The YDP-S34 can reproduce authentic sympathetic string resonances of an acoustic piano effect using its String Resonance feature and, while the YDP-S34 boasts a modern, stylish look, it offers a traditional acoustic piano playing experience. Yamaha has well over a century of acoustic piano-making heritage and has tapped into this experience when designing and building digital pianos. From the moment you open the lid, sit down, and start playing, you'll be immersed in the sound of the flagship Yamaha CFX concert grand piano. The 88 Graded Hammer Standard keys replicate the touch of a grand piano, giving you an authentic acoustic piano experience.
---
Reverbs that reproduce the distinctive ambience of a wide range of performance venues.
Reverb effects that reproduce the natural reverberation heard in concert halls and other performance venues. Enjoy the ambience of concert hall recitals, live gigs in jazz clubs, and more, all in the comfort of your own home.
Recital Hall

Clear reverberation, as heard in a medium-size hall used for piano recitals.

Concert Hall

Bright, the gorgeous reverb sound, as heard in a large concert hall for orchestral performances.

Chamber

Suitable for playing chamber music. The intimate reverb sound in a spacious room, such as for classical music recitals.

Club

The vivid reverb sound in a live music venue or jazz club.
---
Stereophonic Optimizer: a new kind of headphone experience
Unique to Yamaha, the Stereophonic Optimizer adjusts the spacing of the sound and the separation from the piano when listening via headphones, resulting in a spacious sound image that will inspire you to play for hours at a time.
---
Intelligent Acoustic Control (IAC)
At low volumes, bass and treble used to be difficult to hear, however, YDP-s34 is equipped with Intelligent Acoustic Control (IAC), which adjusts the sound automatically, allowing players to enjoy balanced sound at any volume level.
---
Acoustic Optimizer
The body of the YDP-S34 contains Acoustic Optimizers that regulate the flow of sound and control tone. A new technology developed from Yamaha's intimate knowledge of the acoustic properties of musical instruments, Acoustic Optimizers deliver a natural, smooth sound across the entire keyboard.
---
Simple operation using the free Smart Pianist app!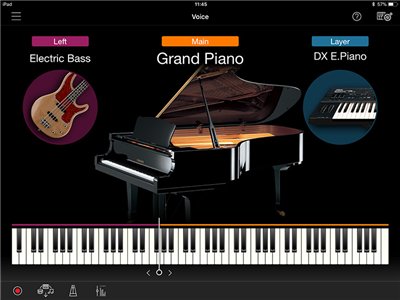 Yamaha's special free Smart Pianist  app allows you to control the many functions included in Yamaha digital pianos with your iPhone or iPad, for even easier operation. Voices, Reverb, and other settings can be selected while looking at the screen, making it easy to enjoy new functions with ease. You can also save your favourite settings for quick recall at any time.
Smart Pianist can even extract chords from Audio that automatically creates a chord progression from audio songs on your smart device, allowing you to enjoy playing along with your favourite tunes.