Description
Yamaha YDP-S54 Digital Piano
More rich piano sound by CFX sampling and circular speaker
GH3 keyboard with synthetic ivory (white keys) and ebony (black keys)
Damper resonance / String resonance
Smooth release & key off sampling
iOS app "Smart Pianist" integration
New gentle design and wide color variation selection
Stereophonic optimizer
192-note polyphony
3 pedals (Damper with half pedal effect, sostenuto and soft)
---
Light up your living room with elegant piano performance and modern design
Stylish and compact, the YDP-S54 digital piano offers authentic piano performance in an smart, stylish design available in both black and white wood finishes that are the perfect complement to any room.
---
Elegant, advanced piano performance
"Pure CF sound engine" delivers well balanced, rich, expressive voices.
The YDP-S54 is equipped with an "Pure CF sound engine" This piano sound was recorded from Yamaha's renowned CFIIIS concert grand piano, heard on stages all over the world. Also it offers an authentic performance experience, allowing players to utilize up to 192 notes at once to provide rich, natural reverberation even on complex passages with flurries of notes and extensive use of the pedal. The YDP-S54 will allow you to enjoy relaxed, stress-free playing whether you're practicing at home or playing in lessons.
---
A synthetic ivory graded hammer (GH) keyboard provides authentic acoustic piano playability and comfort
Enjoy authentic grand piano playability with the feel of an ivory keyboard. Highly absorbent materials ensure that the keys retain their superb feel even when playing for extended periods of time.
---
Reverbs that reproduce the distinctive ambience of a wide range of performance venues.
Reverb effects that reproduce the natural reverberation heard in concert halls and other performance venues. Enjoy the ambience of concert hall recitals, live gigs in jazz clubs, and more, all in the comfort of your own home.
Recital Hall

Clear reverberation, as heard in a medium-size hall used for piano recitals.

Concert Hall

Bright, the gorgeous reverb sound, as heard in a large concert hall for orchestral performances.

Chamber

Suitable for playing chamber music. The intimate reverb sound in a spacious room, such as for classical music recitals.

Club

The vivid reverb sound in a live music venue or jazz club.
---
Comfortable playing feel combined with simple operation.
Designed for your personal enjoyment
The YDP-S54 offers convenient functions for when you cannot always play the piano at high volume. Intelligent Acoustic Control (IAC) adjusts the sound automatically to allow players to enjoy balanced sound at any volume level.
Stereophonic Optimizer lets players enjoy the natural, spacious sound experienced when sitting in front of an acoustic piano, even when wearing headphones. When using this function, voices sampled from acoustic pianos are perceived to come from the body of the instrument itself, not your headphones, providing a comfortable, natural experience.
---
Authentic acoustic piano playability
With an 88-key piano action and synthetic ivory and ebony keys, the Graded Hammer 3 (GH3) keyboard reproduces the touch of an acoustic piano, from the heavy feel in the lower register to a lighter touch in the upper octaves. The GH3 features a three-sensor configuration that, accurately senses and interprets the behavior of the keyboard to provide a grand piano-style response and feel, allowing rapid note repetition and authentic expressive control.
---
Simple operation using the free Smart Pianist app!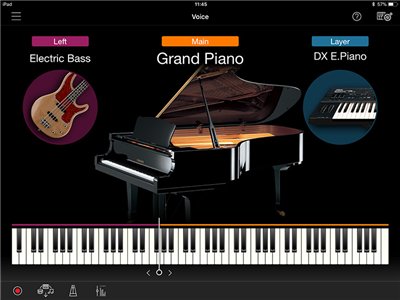 Yamaha's special free Smart Pianist  app allows you to control the many functions included in Yamaha digital pianos with your iPhone or iPad, for even easier operation. Voices, Reverb, and other settings can be selected while looking at the screen, making it easy to enjoy new functions with ease. You can also save your favourite settings for quick recall at any time.
Smart Pianist can even extract chords from Audio that automatically creates a chord progression from audio songs on your smart device, allowing you to enjoy playing along with your favourite tunes.